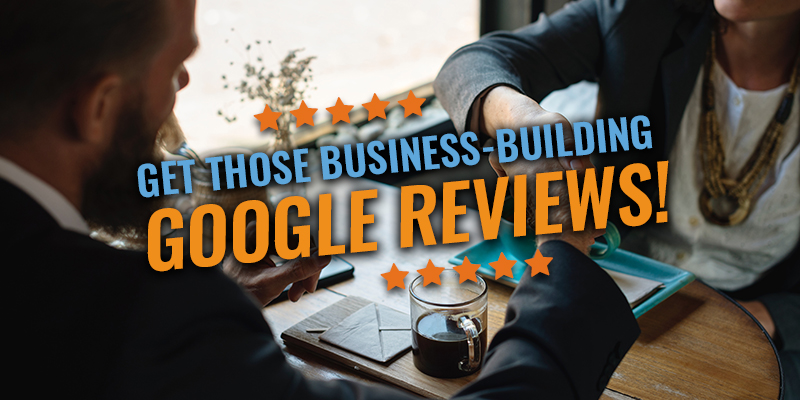 Get Those Business-Building Google Reviews!

3

min read
October 6, 2017
One of the simplest ways to improve your online marketing presence is establishing a business listing on Google and Bing. But just having a presence isn't enough. To benefit fully, you must make your presence a hard-working member of your marketing team.
Too often we find that businesses fail to take the extra few moments to fully detail their profiles. By adding several set of photos (inside, outside, team, at work, etc), business hours, a 360-degree virtual tour, and other useful data, you are directly providing not only Google with additional information on your business, but potential customers as well, and photos add more of a human touch to your website. This additional information can help improve click-throughs on your business listing, your local pack ranking, and your localized organic ranking.
If you are not part of the minority of businesses currently taking advantage of these features, it's likely that you're missing out on another simple way to improve click-throughs, your local pack ranking, and your localized organic ranking – Customer Reviews.
One of the easiest ways to separate yourself from your competitors (especially as a small, local business) is to solicit Google reviews from your existing clients.
The data is overwhelming:
The good news is there are a variety of different ways you can work on building these reviews, and they require little to no effort. For clients of Sharp Innovations who have active SEO campaigns, we've implemented strategies such as review redirects, review buttons on the website, asking for reviews as part of a newsletter, and other fruitful strategies.
Once you start to get reviews, it's important to read and respond to them as well, especially the negative reviews. Having a few negative reviews mixed in among all the other positive reviews isn't a completely terrible predicament, as it will give your reviews some authenticity (It's impossible to please everyone!).
Many times, customers are more interested in seeing how you respond to these unhappy customers than in simply reading about how wonderful you are. So, rather than starting a battle in an attempt clear your business's name, let the customer know you've heard them and that you'll work to resolve the issue. Move the issue off page via a customer service phone number or email address, and if they wind up satisfied with your solution, ask that they change or update their review.
Customer reviews have always been a powerful selling tool, and they're just as important in Internet marketing as in all the older methods of trying to attract new customers. We'd love to help you improve your online marketing presence, so contact Sharp Innovations today to get started with web design, programming, Internet marketing, or hosting services. We look forward to connecting with you.