GMB Signals Increase Their Role in Driving Local Rankings

4

min read
December 29, 2020
Google My Business signals are gaining muscle when it comes to lifting your brick-and-mortar location in local search and having it appear in front of users.
GMB signals include factors such as proximity to the person searching, business categories, and the keywords used to describe your business in its Google My Business page title and other details.
Recent reports indicate that among local search rank factors, GMB signals in 2020 increasingly influenced search results and these signals continue to rise in importance.
In other words, it's not enough to just "fill out" your business listing. If you want your business to perform better in local search, your GMB listing needs to be optimized with relevant keywords, regularly updated, and fully populated. (Give us a call to learn how we can help you!)
Here are a few GMB ranking factors that seem to have a heavier influence on performance: proximity, relevance, and prominence.
The Big 3 GMB Ranking Factors
So, how do you achieve favor from search engines for local searches?
Proximity: Optimize for the local neighborhood in which your business is physically located. Try to target on a neighborhood level or zip code level. If you have multiple locations, optimize per neighborhood and for a general city location.
Relevance: Does your business fit the needs or intent of the person searching for it? The more searchers choose your business (clicks on your listing for things like "directions to," or clicks through to your website, etc.), the more relevant it appears to search engines. Your business needs to "match" the user's query.
Prominence: Is your business the authority in its category? Is it well-known and are there support documents bolstering your prominence? Links, articles about your business, and accurate business directories can help improve your prominence. Reviews and positive ratings also strengthen your prominence.
Other Factors Gaining in Search Rank Influence
Review Signals (Review quantity, review velocity, review diversity, etc.)
Obviously, if reviews can help bolster prominence, then they can influence search rank.
A recent survey by whitespark reveals that 90% of consumers read online reviews before visiting a business. And 88% of consumers trust online reviews as much as personal recommendations.
How do you decide which business is going to get your money? It's likely the same way your potential clients or customers decide whether to come to you. Online reviews are like digital word-of-mouth.
(Need help getting more business reviews? Contact us to learn how we can help.)
On-Page Signals (Presence of NAP, keywords in titles, domain authority, etc.)
First, make sure your Name, Address, and Phone (NAP) match across all listings. This might seem like a no-brainer, but have you investigated your NAP profile? Its consistency plays a big role in SEO and it includes making sure the legal name of your company is used. Are you including the "LLC" each time? Does the business website have a shortened URL listed anywhere? Did you ever list a cellphone or alternate number that has since changed?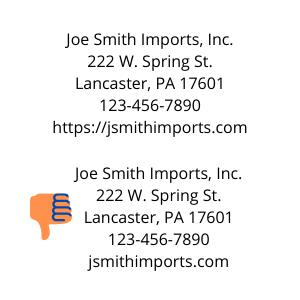 Small details are big concerns. There are digital marketing services wholly dedicated to helping businesses iron out their NAP listings because it can get complicated.
As a business owner, the very least you should do is make sure the NAP on your Google My Business page is exactly as it should be. (Need help with your GMB? We'd be happy to monitor it for you.)
Regarding categories, choose the best fit for your business and use that as your primary category. You can add relevant categories as secondary signals. The keywords you choose to describe your business should be well researched. Have you investigated what your competitors use? That's a great place to start.
But What About Conversions?
Yes, it's super important for your business to rank well and to optimize your GMB so that it works to your advantage. But what you really want is conversions. Well, all of this plays a big role in those.
Take a look:
If you need help getting any of these top conversion factors in place for your business, give us a call. We can help you head into 2021 at full-strength.
Lastly, check out the Google My Business Video Maker, a free marketing tool that pulls your photos, reviews, and other details from your GMB profile and creates a customized video that you can share with your customers, on YouTube, and other social platforms. We gave it a try: