Changes to Google Search Results

2

min read
November 6, 2011
How will it affect your business?
Google announced last week that there would be another fundamental change to their search algorithm to help index new content as fast as possible. This update, called "Freshness," will affect about 35% of all search queries. It will mostly target highly talked about news items (such as celebrity breakups and the world economy, for instance) but may also impact search queries that are broad-matched keywords such as "football."
With the increasingly high number of people utilizing social media, blogging and news related sites, Google has taken the indexing of results in real-time by the horns.  The change has already been showing in the results. Following is an example of the results in real-time for the search query "Barack Obama."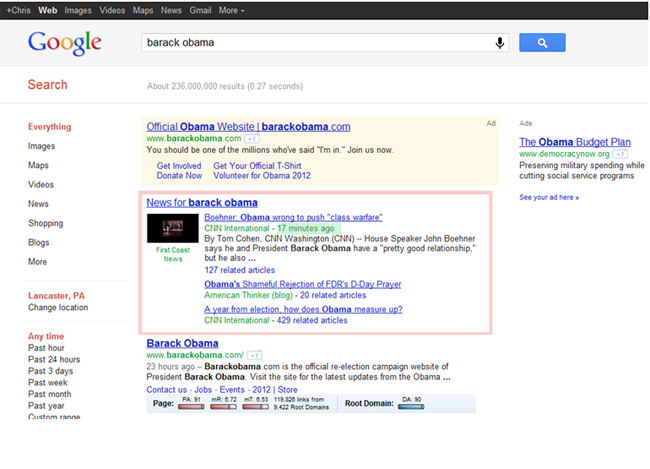 As you can see, there is a time stamp of 17 minutes next to the most recent news item. For those businesses that have news feeds and blogs, this could have the potential to be a large outlet for pushing keyword-related content. Google still says "content is king" amongst keyword rankings, so the more quality content a business can generate, the better chance they'll have of ranking well in search results.
Another reason Google's "Freshness" change is important is because of the instant results most people are accustomed to seeing on social media sites. Google used to index news items relatively fast, but not fast enough for most web surfers. This change should help bring more timely results to the user and better quality content overall.
What does it all mean to you? If you haven't done so yet, claim your page on Facebook, send it to all of your customers, and get the ball rolling by writing quality content about your industry—that will help keep you on top in the SEO game.