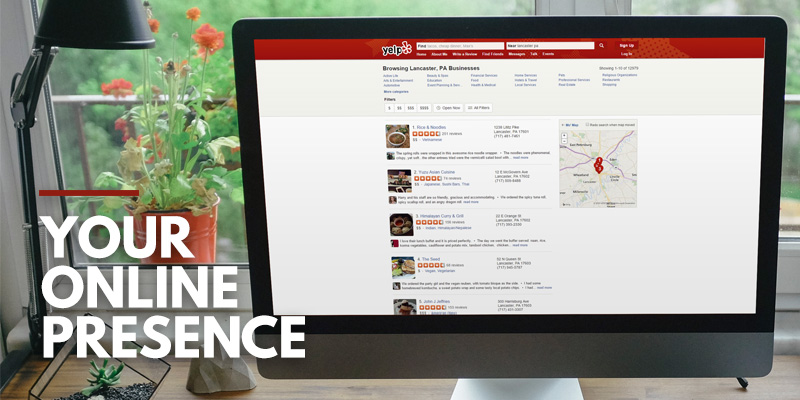 4 Simple Ways to Enhance Your Online Presence

3

min read
September 30, 2015
If you are actively involved in your website's marketing, you likely understand that there is no one method that will cover everything. In order to successfully market your website or brand you need a mix of services that might include search engine optimization (SEO), social media and blog management, paid advertisements, and email marketing. Just like your offline advertising, certain online advertising methods work best depending on your target audience and their preferences or needs.
The good news is there are some proven tactics you can follow, no matter what industry you are in or who your client base may be. We've gathered a list of four of our favorite ways to enhance your online presence by complementing the marketing strategies above, and we encourage you to get started on them today.
You Need Reviews – We're not talking about those testimonials or reviews you can post on your own website. Anyone can pick and choose their best samples to throw up on a testimonial page. Customers want real reviews from people they perceive as being real. Studies have shown that more than half of shoppers check online reviews before buying, with some studies suggesting numbers as high as 81% or even 94% for business to business purchasers! You should be asking customers to leave you feedback on Facebook, Yelp, Google, Houzz, or anywhere your customers may be searching. Build up a solid review base and don't forget to respond to them! Negative reviews can be turned positive by apologizing and moving the conflict to email or a phone call for resolution.
Consistently Add New Content – We must make it clear that this doesn't mean to create content for the sake of creating content. Think about different things your customers may want to get from your website, blog, or social channels and cater to these needs. On your website you may build out better product descriptions with information that may be missing. Your blog could be covering something big that's occurred in the industry and how it affects you or your customers. On social media it could be as simple as following the common 80/20 rule, which means 80% of the time you share other people's valuable content, and only cover your own 20% of the time. Whatever your content is, it must provide value and keep people engaged with you and your website.
Track and Test – Even small tweaks here and there can make a significant impact on how users respond to your website. One of our favorite studies shows that Expedia eliminated just one form field for a customer's company name and improved their profits by $12 million! Set up your A/B tests and let analytics guide your decisions.
Claim and Utilize Local Listings – You've probably heard of your Google "My Business" page, and you may even have a listing setup, but this is only the beginning. Did you know you can get even more out of these free listings by completely filling the information sections out, adding relevant photos, and ensuring that your name, address, and phone number (NAP) are all consistently listed? You wouldn't believe how many businesses fail to ensure their business is correctly listed online. If you're wondering how your business is doing you can use our listings checker tool. Need help improving this? It's included in any of our SEO packages.
These are a few simple ideas to help improve your business's online presence no matter what you are already spending on online marketing. If you'd like more ideas or need help, be sure to contact us through the number below and we'll be happy to assist you!