A Social Life is a Good Life

1

min read
July 10, 2014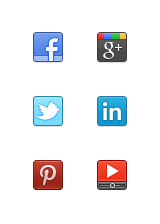 Social media has become such a hot topic among web marketers, and for good reason! These sites easily allow users to keep in touch with friends and family, as well as share things they care about or enjoy. And there is the key to the whole thing, sharing. Sharing can take a website that is barely known, and because one share, garner extremely favorable notoriety. But advertising does the same thing right? Yes, but when your friend shares a link with you, it feels more personal, like your friend is specifically endorsing that site.
The problem is that while we have a great website, with great content, we still may not be enjoying the "share" effect. Maybe they just need a little reminder in a way that makes it convenient to share. An easy way is to implement a simple share bar that provides for one click sharing. Aside from this, we also recommend building a solid presence on the following social media sites:
Facebook
Google+
 Twitter
 LinkedIn
 YouTube
 Pinterest
Why not look at the ever -popular Nike for example:
Creating your identity across multiple sites will grow your brand and identity. It helps to ensure users of a good experience on any site and trust you more. So get out there and start posting, start sharing and get social!
P.S. View more about social media in our article Now Trending: Social Media. If you need assistance with your social media efforts, we are always open to help you get started. View our social media information to learn more about what we can do to help you.