Does your website qualify for Google's new "mobile friendly" label?

2

min read
November 24, 2014
Google recently announced that they are taking steps to highlight websites that are particularly friendly for use on mobile devices. Not only have they started asking mobile users to rate their mobile search results, but Google has also started displaying a label in the search engine ranking pages (SERPs) that tells the user whether or not the website listed is a "mobile-friendly" one. They've even developed a tool to test whether or not your website is deemed "mobile friendly."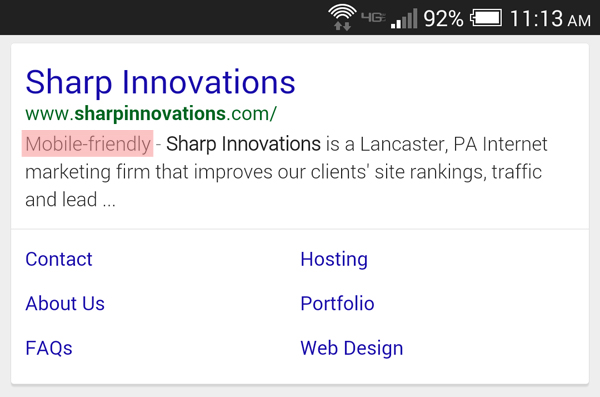 A website that is not mobile-friendly runs the risk of being penalized in the SERPs, as Google has stated clearly on their Webmaster Central blog: "We are also experimenting with using the mobile-friendly criteria as a ranking signal." They also point out here that your site must meet these criteria for it to be labeled "Mobile-friendly:"
Avoids unfriendly software, like Flash, since it isn't common on mobile devices
Has a font that is large enough to read without zooming
Properly scales to fit the device's screen without scrolling left or right
Links are spaced and easy to tap on
These are all focused on Google's central theme: user experience. If your website doesn't meet these standards, it won't receive the new label, and this puts you at risk for being penalized in organic rankings. Making your site mobile friendly should therefore be a top priority when considering ways in which to improve or modify your website, particularly since it will directly affect your organic search engine rankings.
We've blogged before about determining whether or not you need a mobile website, as well as the difference between responsive web design and mobile web design, and we encourage you to review these articles if you are lacking a mobile presence and are considering making a change.
If you have any questions about how your site can earn Google's "mobile friendly" label, feel free to contact us via the link at the top of the page or the phone number listed below. Sharp Innovations, Inc. has developed numerous responsive and mobile websites for our clients, and can help you determine the proper solution for your budget and goals.