Google Pigeon and Local Search Engine Optimization

3

min read
August 4, 2014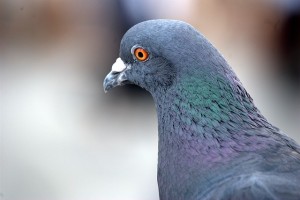 About a week ago, Google released a new search algorithm update which caused one of the largest changes to local search we've seen. Given the nickname "Pigeon" by Search Engine Land, this update is intended to provide better local information by delivering more relevant and accurate results to the person who is doing a search. Businesses seeing benefits from this update are ones who are properly set up on the necessary directories and social media channels, and who are also fully optimized to boost their local search efforts. If you are not set-up on the major local directories or social media websites, like Google+, or if you are haven't bothered to update the account with photos, information and the rest of the required or optional information, you will likely see a drop in both traffic and organic search referrals.
To illustrate the benefits of a properly completed Google+ My Business page, for instance, take a look at the search results page (SERP) below. Looking at the results for "food in lancaster," you should immediately notice the "carousel" at the top of the page. This carousel stands out to your customers, and is a distinct, FREE way to attract attention on an ordinary search page. Iron Hill Brewery & Restaurant not only has a full Google+ My Business page featuring pictures, hours, and more, it also has over 100 reviews. All of this is information a potential visitor would find useful in their search. Google is not just boosting its own entities with this local algorithm update, but others as well, including Yelp, TripAdvisor, UrbanSpoon, and so on, as demonstrated in the results page.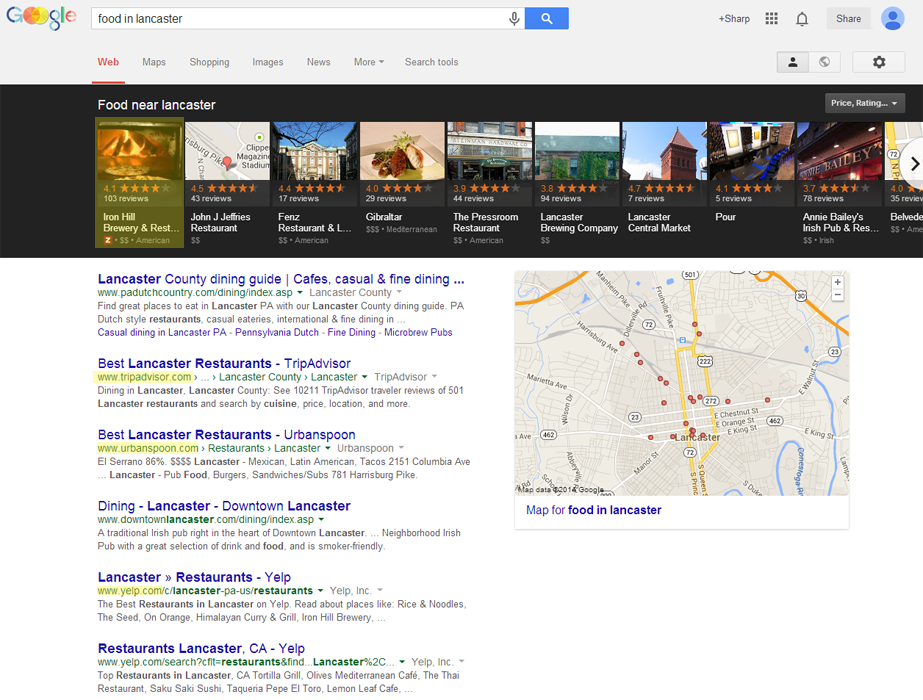 The good news for clients of Sharp Innovations' search engine optimization packages is that the signs were pointing to an update like this for a long time. This is why we partnered with Universal Business Listing submission services last year, and offer it to all our SEO clients. Not only does this ensure you have the proper accounts, but also consistent listings across the different channels. This is in important piece of the puzzle, since you really don't want the wrong business information out there floating around. If someone's looking for you and finds a phone number to call or an address to visit that isn't accurate or up to date, you can imagine the frustration (and so can Google)!
If you aren't currently one of our search marketing clients, and you aren't sure whether or not you are set-up on the appropriate websites, there are free tools that give you an idea of places to look. Moz has a great local tool that offers a free version to check listings that we would recommend.
If you want to benefit from the Google Pigeon update and make sure your business isn't left behind, you'll want to do the following:
Establish appropriate directory and social media listings.
Thoroughly complete and optimize your business profiles.
Make sure your business profile data (name, address, etc.) is consistent across all channels.
BONUS – Reviews can help! This doesn't mean you need to incentivize good reviews, but real reviews that potential customers will find useful in determining whether or not you are the appropriate choice for them can be very helpful.
If you need assistance in fulfilling these tasks, or in helping with any other search marketing and optimization efforts, we're more than happy to help! Simply contact us for a free consultation.