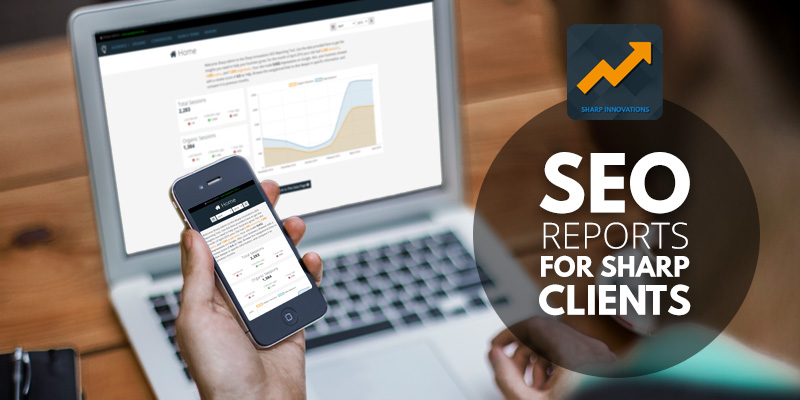 Sharp Team Unveils SEO Reporting Tool 1.0

2

min read
May 24, 2016
Not many web marketing firms can claim they have an in-house search engine optimization tool at their disposal, but now thanks to the forward-thinking SEO crew at Sharp, this has become a reality not only for our SEO team but for our clients as well. (It's technically still in BETA but we're letting the cat out of the bag)
Monthly reporting is nothing new to our dozens of SEO clients, in fact it's the norm, but a tool custom-built for smaller businesses is a bit out of the ordinary, and we're pleased to be able to offer it. We know our clients and their businesses, and therefore saw a need for a custom tool that offers a statistical presentation of results, trends, figures and more, that overshadows generic reporting.

In many ways our SEO tool simplifies things. Rather than endless lists and tabs of statistics you're probably very much removed from, our tool focuses a lot of attention on your bread and butter: sessions, conversions, search queries, etc.
As you can see in the screenshot above, our graph statistics are three-fold, colored accordingly, and span a six month period (the start date can be adjusted). In this particular graph, orange represents organic sessions, blue – total sessions, and green- search impressions. Users can select or deselect any combination of these three to streamline the graph.
What our clients will also find with this tool is a useful data breakdown of their numbers that coincide with the aforementioned Organic Search Traffic graph (above). In the shot below it happens be a performance meter for 'Organic Sessions.' This graphic shows total organic sessions compared to last month, three months ago, and one year ago. We've found that this is a great barometer for sustained SEO improvement.

A reading of organic traffic is just one facet of the reporting tool too. Referrals, (where the traffic is coming from) conversions, (desired actions taken, like submitting a form) and top search queries (what users are typing in to Google to get to your site) are a few other metrics that this tool tracks. Another feature of our SEO tool is a tab dedicated to customer/client reviews. This page compiles reviews from Facebook, Yelp, and others, and proves to be a great KPI (Key Performance Indicator) as your business evolves and you look to build a favorable brand reputation.
The SEO Reporting Tool, version 1.0, complements our SEO offerings quite well, allowing for a focused touch in our ongoing efforts to improve clients' search engine authority. Check out our SEO portfolio to catch a glimpse of the types of clients we've worked with if you're mulling the effects and breadth of our services.You can also check out what's included in our packages and our pricing by opening/downloading our Tier 1 and Tiers 2 & 3 PDF's below.
For more info, get a hold of our sales team by phone or email!
sales@sharpinnovations.com – (717) 290-6760