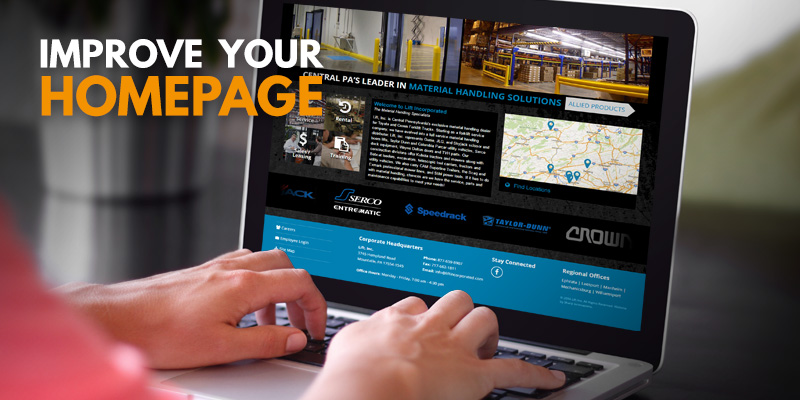 3 Quick Ways to Improve your Homepage

2

min read
May 16, 2016
Building a successful online presence for your business requires not only proper design, but rewarding internet marketing as well. As the internet and user behavior continuously evolves, so should your website in order to cater to the demands of your customers.

Your website's homepage is the first place to look for improvement in a website review, since more often than not this is the first place people see when they find your company. In reviewing your homepage there are a few tried and true tips we find ourselves frequently recommending to our clients. Test them out on your website and you'll likely find a boost in conversions, calls, or even walk-ins just by making a few simple adjustments.
Include All Contact Information – The goal of most websites is to drive leads or sales back to your business. How do you achieve this? If you don't include your contact information in prominent areas then you're making your prospects search for it, and no one wants to do this! Your website's header should include the phone number and/or email address so customers can quickly reach you. The footer is also a great place to include the phone number and/or email address, as well as the business' physical address if you want to drive foot traffic to the store. ***Bonus*** If visits to your storefront are important, be sure to include hours of operation as well!

Pyfer Reese Straub Gray & Farhat P.C. make excellent use of space on their homepage by including a video

A Clear Call To Action – What do you want visitors on your website to do? Free consultations, newsletter signups and visiting the online store are just a few options you should include a clear call to action for. Don't forget to make the call to action prominent on the mobile version!

Include A Video – We've previously shared 5 ways a video can help boost your search rankings and still recommend adding one to your homepage. Do note that the video should NOT auto-play since sound can frustrate users, especially if they aren't expecting it.
If you'd like to explore other ways to improve your website's homepage or you would like to improve additional pages, be sure to contact a member of our team. Our search engine optimization services help clients drive additional traffic and conversions every day, and we're more than happy to do the same for you!