Online Reputation Management Services
Sharp Reviews: Improve Your Business's Reputation
No matter what industry your business is in, reviews are the bread and butter for attracting new clientele. Having a high (and ever-growing) volume of reviews with positive ratings is the first step in converting more prospects into clients.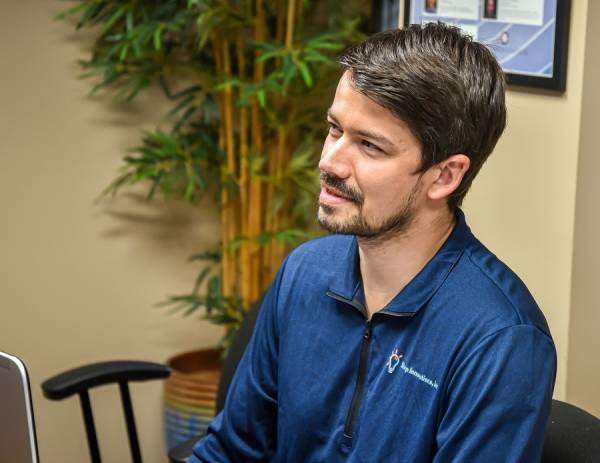 When you plug your business into Sharp Reviews, you'll have a complete system (powered by a team of real humans) working hard to improve your business' reputation online. Our system is broken down into 3 main components:
Monitor reviews in real-time
Get more 5-star reviews on autopilot
Stop negative reviews before they happen
Our talented team, combined with our innovative software, keep this system running for you while you do what you do best: growing your business and making your clients happy!
---
Monitor Reviews In Real-Time
Have you ever failed to notice a negative review on one of your business' online profiles until weeks or months after it was posted? If you don't have review alerts set up, you likely will not notice new reviews until an awkwardly long amount of time has passed.
Promptly responding to reviews, especially negative ones, is an important part of an effective reputation improvement strategy. With Sharp Reviews' review monitoring service, we check every website where your customers could leave a review, and automatically send you an alert via email when a new review appears.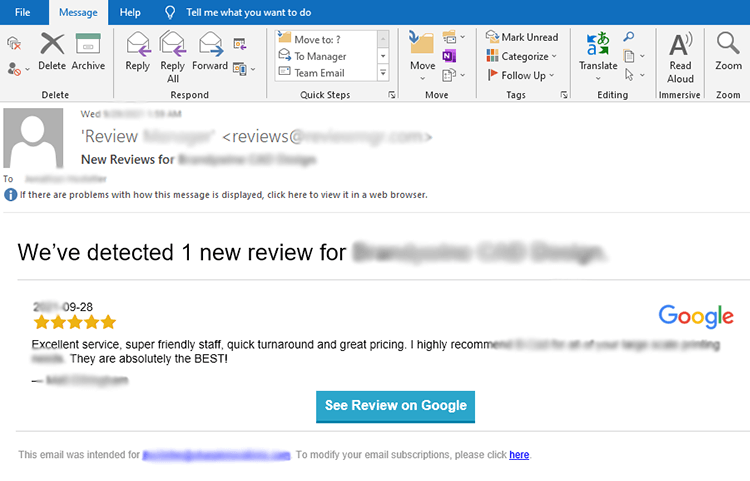 Get More Reviews On Autopilot
Most businesses do excellent work for their clients and they're proud of it. However, most happy customers do not take time out of their busy schedule to talk about their great experience online. Because of this, people who are looking for your business online only hear about the experiences of a narrow group of people, including those who had a negative experience with your team.
Two or three 1-star reviews might not seem like a big deal, but if you only have three or four reviews total, your overall rating score will be very poor. On the contrary, two or three 1-star reviews on a listing that has 50 or 60 positive reviews can actually make the overall score look more legitimate. For example, a 5 star rating is better than a 3 star rating, but a 4.9 star rating can be perceived as more credible than a 5 star rating.
To prevent negative reviews from taking center stage, you need a lot more positive reviews - 5 star reviews from delighted, raving clients who are thrilled with their experience!
Stop Negative Reviews Before They Happen
Many frustrated clients who leave a negative review online don't actually want to tarnish your company's reputation - they just want to be heard, and they want their problem addressed. With Sharp Reviews, your clients are given a chance to privately share anything they're not happy about regarding your product or service before anything goes public.
This is great news for your business if you consistently provide great experiences to your clients! Sharp Reviews helps keep unsolved negative reviews off the web, and gives satisfied clients a platform to boast about your company publically online.
Turn Positive Reviews Into MORE Business
When deciding which business to call first, potential customers look for more than just who comes up first in Google - they notice which businesses have good reviews. More often than you'd think, potential customers skip past businesses that show up prominently in Google if they have a low rating or fewer reviews than the competition.
So if your business is getting a lot of visibility online but your reputation is poor, you're probably leaving a lot of business on the table! When you plug your business into Sharp Reviews, your business gets more than just a much-needed facelift; it gives your business a competitive edge and attracts more clients than ever before.
What Happens When I Get Negative Reviews?
Even if you're on a reputation management program (such as Sharp Reviews), it's still possible that somebody may leave a negative review about your business online. If you're on the Sharp Reviews program, our team can help you respond promptly to negative reviews. Sometimes we can even help take down negative reviews that are irrelevant or inappropriate.
Why is it so important to properly handle negative reviews? If you do not promptly respond to a legitimate negative review (or worse yet, if you respond to it unprofessionally), this could give a very bad impression to prospective clients.
---
Why Choose Sharp Reviews?
If your business' reputation online is causing potential clients to skip over you and call the competition instead, then it's time to take action to fix this right away! There's no need to cross your fingers and hope for the best when it's possible to improve your business' rating and reputation online in just a few days or weeks.
Get started with Sharp Reviews today and start reaping a multitude of benefits, including:
Turn positive reviews into more business. Did you know that 87% of people trust reviews online just as much as from a family member or friend?

Negative experiences are trapped before they get to a public review site, so you can take control of your reputation.

Customers can easily access all review sites where your business is listed. This way you can focus on improving your rating score in the online communities that matter in your industry. Get more reviews on Google Business (Maps), Facebook, YellowPages, Yelp, BBB, HomeAdvisor, and so many more platforms!
Get Started With Sharp Reviews Open / Download Sharp Reviews PDF