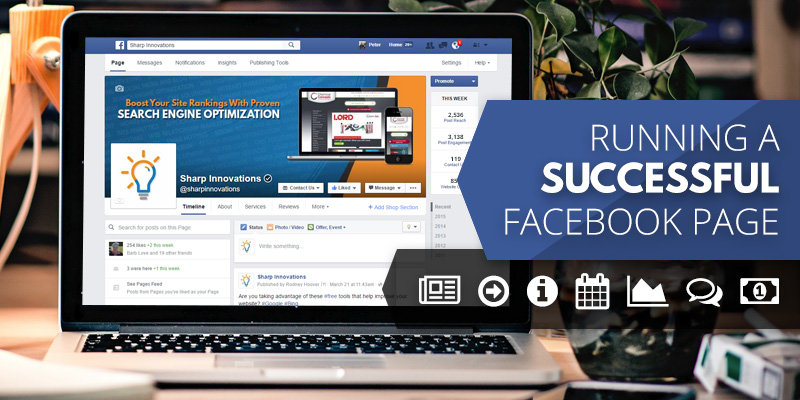 How to Run a Successful Facebook Page For Your Business

4

min read
April 15, 2016
In today's world, a successful internet marketing plan must include a social media presence. With the variety of different avenues people can take to find you, social media is one of the best ways to promote your brand.
Facebook, Twitter, Snapchat, Instagram, and LinkedIn all have their own unique audiences, and your goal is to find the best mix of platforms for your business. No matter which mix you end up choosing, it likely includes Facebook since it enjoys the highest adoption rate among internet users.
There are numerous tricks and tips that go into running a successful Facebook page for your business, and we wanted to put together a helpful list of some of our favorites. We implement these practices every day when we manage social media campaigns for our clients here at Sharp Innovations.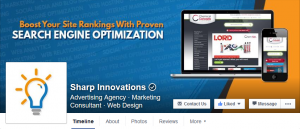 Make it Shine – Be sure to use an eye-catching header, and your profile image should be easy for your customers to recognize. Every post that you make will include your profile image, so if customers share your post or interact with your page and it shows up on their friends' timelines, you'll want them to recognize you as well. Try to rotate these throughout the year for special events, holidays, or promotions. Verify your page for an extra boost in Facebook's search results, and don't forget to set a custom URL that is branded for your business. Which is more useful to you, www.facebook.com/214bax or www.facebook.com/sharpinnovations?
Add a Call to Action – Facebook now has a nice feature that allows you to add a call to action in your header. In one test, Dollar Shave Club enjoyed a 2.5 times higher conversion rate by using the call-to-action feature. Select the most relevant for your business and drive the kind of conversions you'd prefer.
Optimize the About Section – Completely fill out your About section, and be sure the name, address and phone number (NAP) all match what is listed on your website's contact page. If customers need to contact you or would like to visit your store, be sure the correct hours are listed. If these change throughout the year, be sure to keep them updated! For the business description, be sure to include keywords relevant to your business. Just as with SEO, you're not stuffing keywords, but naturally including them in the content.
Build a Content Calendar and Post Valuable Updates – Building a content calendar allows you to structure and plan a good mix of posts for your page. Doing so allows you to follow the 80/20 rule for your posts. This rule means that at least 80% of your posts are original or curated content that your followers would find interesting and enjoy, and only a maximum of 20% is your own promotional content. If you turn your Facebook page into just another billboard, you'll lose followers, but there's another reason not to do this. Your Facebook post must receive some kind of engagement among the first people to see it, otherwise Facebook will stop showing it in your followers' timelines, and the post reach (the number of followers who see it) will stay low. You should aim to post at a minimum once a week, and posts should include some kind of call to action or prompt to initiate a response.
Use Insights to See What Works – Determining what types of posts, on what day, and at what time, drive the most interaction will allow you to tailor these posts to your audience. Don't forget to target sub-audiences among your followers, for things such as gender, age, geographic location, and more.
Monitor & Respond to Comments – If you want people to engage with your page, you need to interact with them. Regular interaction is a quick way to show your followers you care and are reading what they have to say.
Consider Ads & Promotions – Building your audience and reaching new followers is made much easier with successful ad campaigns and contests or promotions.
We hope that these tips and tricks will help take your Facebook business campaign to the next level. If you need any help figuring out how to perform any of these tasks, are looking for ideas for the other social media platforms, or if you decide you'd like help with these tasks and would like to take advantage of one of our social media management programs, be sure to contact our team.