Smart Phones vs. the Personal Computer

2

min read
March 8, 2012
According to data collected by online search giant Google, more consumers in each of five key global markets now have an Internet-capable mobile device than have a desktop or laptop computer. In the United States, the difference is creeping toward 10% more (76% to 68%), although consumers still report accessing the Internet on multiple types of devices. Still, Morgan Stanley analyst Mary Meeker believes that, "Within the next five years, more users will connect to the Internet over mobile devices than desktop PCs." Based on her predictions, she expects mobile data traffic to increase by almost 4,000 percent by 2014.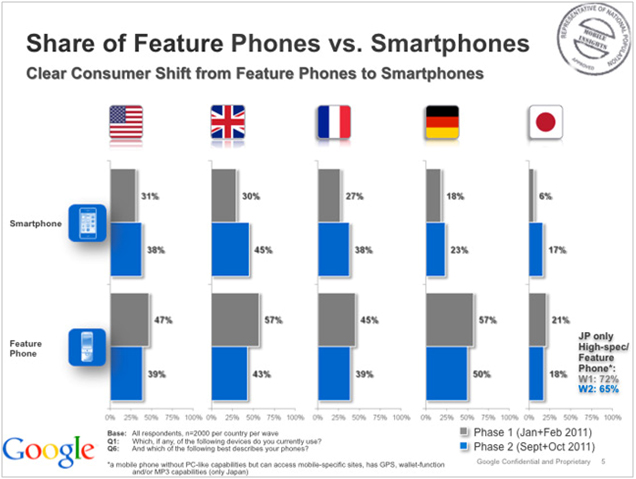 In addition, online tech blogs like The Verge are reporting that more Americans have smart phones than traditional feature phones, and research from the Canalys group backs this up by estimating that 487.7 million smart phones were shipped in 2011—an increase of over 60 percent from 2010. Adding fuel to the fire, Canalys doesn't expect the increase in smart phones to continue as rapidly next year, but suggest that's only because manufacturers will focus on higher-end models and greater profitability, instead of pushing a larger number of low-end products.
Along with smart phones, the tablet vs. personal computer debate has been evolving rapidly throughout the past few years, with no signs of slowing. According to market research firm IDC, we're witnessing the first overall personal computer sales decline since the recession's end, with total PC shipments, including desktop, laptop and mini-notebook computers, reaching 80.6 million, a decline of 2.6 million since 2010.
"Good-enough computing' has become a firm reality, exemplified first by Mini Notebooks and now media tablets," said IDC senior research analyst Jay Chou. "Macroeconomic forces can explain some of the ebb and flow of the PC business, but the real question PC vendors have to think hard about is how to enable a compelling user experience that can justify spending on the added horsepower."
While it's not likely the personal computer will replaced in its entirety anytime soon, the numbers say it all: personal computers are becoming less of a necessity, and more of an old stand-by in our increasingly mobile world.