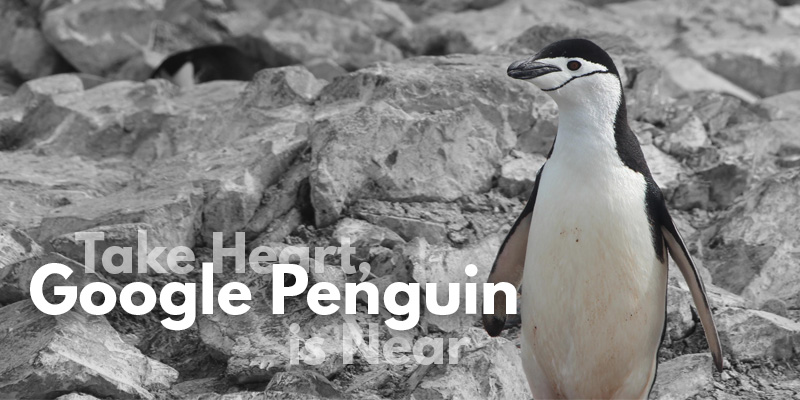 Take Heart, Google Penguin is Near *Update* It's here!

3

min read
September 20, 2016
The long-awaited Google Penguin 4.0 seems to finally be reaching its launching point. Recent discussions with the Google team have revealed that they've been working on a launch announcement, and a date has been set to go live. Unfortunately they're keeping the exact release date hidden from the public, since previous targets failed to hit the mark and frustrated webmasters.
What is Google Penguin?
Google Penguin is Google's attempt to prevent artificially increasing a website's ranking in the search results through purchasing links from link networks whose sole purpose is boosting Google rank, as well as through other unnatural linking schemes.
Originally launched in April 2012, Google Penguin is updated periodically and has had several updates over the years. The most recent update was in October of 2014. As you can guess, owners of websites negatively affected by penalties under Penguin have been anxiously awaiting its next release, hoping to have the penalties lifted.
Once you've been hit by a Google Penguin penalty, your first step should be to remove those spam links and replace them with high-quality new ones, since the algorithm weighs the percentage of good links versus poor links. Then all you can do is wait until the next Google Penguin update.
How soon is the Google Penguin update launching?
Although we can't state the release date specifically, the consensus is that since the Google team is working on a launch announcement and a release date is set, the update will be released shortly. Observers have noted a recent increase in reports of large fluctuations in the search results, which could be attributed to testing of the algorithm update.
How can I avoid future penalties?
The most basic rule is to build your site for the users. Any changes or improvements should be centered on the idea that this is what your customers are looking for. If you follow this approach, you won't have to worry about what the search engines are doing.
You only run into problems if you are focused on improving your ranking through artificial means, in an attempt to "trick" the Google algorithm. You won't achieve the top ranking overnight (unless you are pioneering a new space), so accept that fact and eschew tactics that guarantee such results, which at best are temporary and, as mentioned already, are likely to have the opposite effect once Google detects them.
Interested in boosting your search engine rankings the right way?
If you're in the unfortunate situation of having your site ranked poorly under  Google Penguin— and the update does not seem to help you once it is released— we encourage you to contact the Sharp Innovations team to take a look at your website. You may not have performed enough of a cleanup, or there may be other issues at play (such as a Google Panda penalty).
Our team can also help you improve your Internet marketing efforts through a variety of programs, including search engine optimization (SEO). Our search engine optimization programs have helped dozens of clients in a variety of industries, improving their organic search engine traffic, conversions, sales numbers and leads.
**Update 9/23/16** Google Penguin is now part of the core algorithm