Even Though Bing Surges, Google Still Tops US Searches

1

min read
April 10, 2012
Google, the worldwide search engine leader, has some competition. Bing, Microsoft's search engine, has steadily crept up search engine rankings since it debuted in 2009, and is now in the number two spot for the first time. Google and Bing's trajectories appear approximately parallel, while the rest of the competition's rankings continue to dip.
According to comScore, Bing and Microsoft's other websites had a respectable 2.7 billion U.S. search requests in February 2012, but Google still remained on top with 11.7 billion search requests. Yahoo ranked third with 2.4 billion requests. Ask Network came up two percent in February to reach 535 million search requests, and AOL, Inc. had 266 million.
What do these statistics mean for your business? Basically, search marketing, or search engine optimization (SEO), is more important than ever. With the right SEO team, you can increase lead generation and bring in more traffic to your site. Ultimately, it is possible to take advantage of Bing's surge and the increasingly competitive search engine market to increase sales for your business. Let Google and Bing duke it out, and reap the benefits by hiring a great SEO team.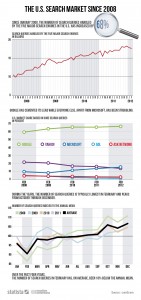 Graphic courtesy of Statista.com.
Sources:
Callaham, J. (2012, January 12). Microsoft's Bing now second in US search, ahead of Yahoo. Retrieved from http://www.neowin.net/news/microsofts-bing-now-second-in-us-search-ahead-of-yahoo
(2012, March 9). comScore Releases February 2012 U.S. Search Engine Rankings. Retrieved from https://www.comscore.com/Insights/Press-Releases/2012/3/comScore-Releases-February-2012-US-Search-Engine-Rankings?cs_edgescape_cc=US
Silverman, M. (2012, March 26). Despite Bing's Rise, Google Still Dominates Search. Mashable tech. Retrieved from http://mashable.com/2012/03/26/search-stats-infographic/
US Search Market Since 2008. 2012. Statista, Inc. 10 Apr. 2012 https://www.statista.com/.