Sharp client recently featured on the popular tech blog, "Gizmodo"

2

min read
July 2, 2013
Have you ever bought a new pair of bright, white tennis shoes, only to have them look old and dirty after an ill-placed step through a puddle? Or perhaps you've worn a crisp, new shirt at a barbeque and quickly realized that shirt wouldn't look new for long. Maybe you've simply had a beverage accidentally knocked over, right near your smartphone that happens to be lying beside it on the table. Whatever the careless moment or unfortunate incident, a small company out of Lancaster, PA has developed a product that guarantees to revolutionize how we protect our personal possessions from life's unfortunate run-ins with these liquid-based hazards. NeverWet™, a longstanding Sharp Innovations client, has recently partnered with Rust-Oleum™ to bring this technology to a store near you. For about $20 a can, you can purchase NeverWet's™ two part super-hydrophobic coating that effectively resists water and other aqueous solutions, acids, bases, salt solutions and most foods.
See NeverWet™  in Action..
Gizmodo
If this all sounds a bit familiar, it may be because NeverWet™ has enjoyed tremendous media buzz of late, driven largely through powerful YouTube and blog channels. Being featured by the popular technology blogs like Gizmodo has also helped. Gizmodo, known as the "Gadget Guide," is something like an online version of "Popular Science." And the June 24th post featuring NeverWet™ has commanded over 178,000 page visitors, highlighting the magic-in-a-can phenomenon for its tech-savvy audience. This placement on Gizmodo has boosted the buzz surrounding this innovative product and could prove to be a catalyst for a viral sensation.
The Statistics
Not only have many users landed on Gizmodo's write-up, but many have been engaged in doing so. As of July 1st, the Facebook "like" total for the page was approaching 9,000, while well over 400 comments flooded the page, ranging from general praise to excited anticipation of future uses and functions. That's just the beginning: A YouTube clip, shown above, posted by Lancaster Online exhibiting the scientific anomaly, has attracted nearly 2.5 million views! Consequently, NeverWet's urchin reporting, managed by the Sharp team, reveals the massive spike in page visits, from 1,900 on Monday the 17th, to over 33,000 on Tuesday the 18th, to over 45,000 on Wednesday the 19th. That's a 2,479% increase in the space of 48 hours! View the graphic below to see the exponential increase in site traffic.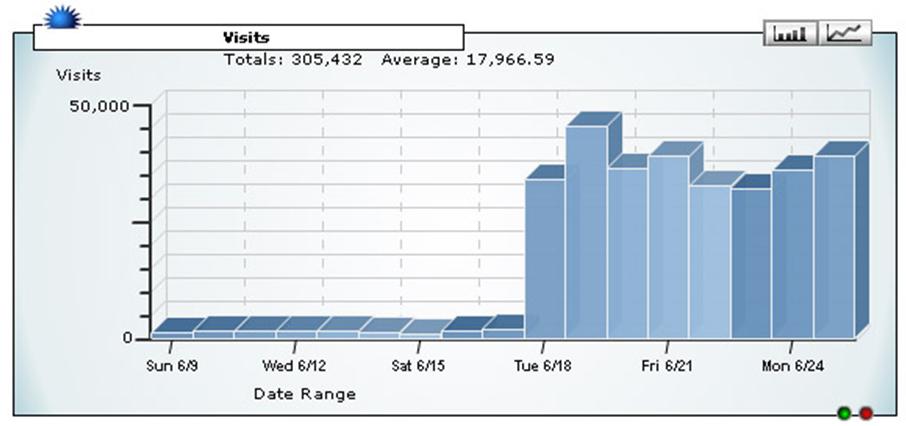 The Sharp Innovations SEO and web development team is proud to work alongside NeverWet™  to offer cutting-edge optimization and internet marketing services.