The Real Cost of Search Engine Optimization (SEO)

4

min read
September 29, 2021
A question we get frequently here at Sharp Innovations is "how much does SEO cost?" If you're planning your 2022 budget and want to consider adding search engine optimization services or dedicating more resources to your digital marketing efforts, but aren't sure where to start, we took some time to pull some industry data to help you plan.
As with any service-based cost, pricing can range drastically along with the actual service performed. You'll want to take some time really diving in and making sure you understand the differences in each pricing and package model, to assure you're getting the most for your marketing dollars. Simply choosing the cheapest option is always a costly mistake, and clients spending over $500/month were 53% more likely to consider themselves "extremely satisfied" with the results compared to those who spend less.
This can be an overwhelming industry for many businesses who don't fully understand SEO, and you really do get what you pay for in this space. Read further to learn more about the cost of SEO.
If you need help breaking down programs & pricing differences? We'll be happy to help, just give us a call!
How Much Does SEO Cost?
In the most comprehensive and recent study available, the average monthly spend is around $500 a month for search engine optimization services. This survey was performed by Backlinko LLC in 2019 on 1200 business owners.
Pricing models can include fixed monthly costs, hourly consulting and service fees, project-based, and performance-based.
How Much Does SEO Cost in Lancaster, PA?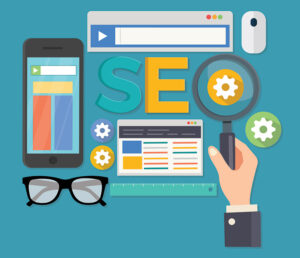 SEO pricing in Lancaster, PA seems to run a bit higher than average, as we see an average price of $964 a month for a basic level package, up to $2,185 a month on a high-end package for local SEO services.
These costs do not include set-up fees, which can range from $195-$4025 at the basic level, all the way up to $195-$5,925 for a high-end package.*
*Data compiled using publicly available information listed on local Lancaster PA SEO firm websites as of 9/2021.
What Factors Help Determine the Price of SEO?
The biggest difference in the pricing of SEO packages is the actual services provided. Your best programs are more custom-tailored to your business's goals, the strategy to achieve those goals, the size of your website, whether you're in need of local or national SEO services, and more.
Choose the Right SEO Partner
So, you may be left wondering how to be sure you're choosing the right company to partner with to perform your SEO services. Here are a few helpful tips to keep in mind when choosing an SEO partner:
Keep an eye out for SEO red flags (no case studies/referrals, guarantees, "quick fixes", hands-off approach, black hats)
Beware of large agencies whose SEO staff is a revolving door (ask about the average experience of those who are working on your project – not the project manager)
You don't need someone who specializes in your industry (those who specialize in your industry, are doing the same thing for you and all your competitors – how does this help you stand out in the search results?)
Choose a program with some sort of content element (simple, directory-online programs will have minimal impact on your performance; you need a firm that can help improve messaging, draft appropriate content pieces, and more)
Where to Start with SEO?
If you're overwhelmed and wondering where to start, the best option is to reach out to one of our marketing professionals for a free consultation. From here, we can help you determine whether you need to start with just a simple SEO audit to see how your current website or SEO campaign is performing and if there's room for improvement or discuss your business to help you determine the most critical SEO items you need to have covered to perform your best in the search results.
We've helped clients in dozens of industries, whose targets range from local to national audiences, secure those valuable spots at the top of Google, Bing, and other search engines. Learn more about our full digital marketing and SEO offerings by giving us a call at 717-290-6760. If you're interested in diving in a bit more ahead of our call, feel free to browse our digital marketing PDF which outlines programs, pricing, and more.