Google Ads for Small Businesses: Harvesting the Power of Local Search Ads

7

min read
February 24, 2023
Gone are the days of phone books and old school Yellow Pages. From finding a local pizza place to searching for a swimming pool contractor, more and more people are turning to Google to search for products and services in their area. Google Ads is an excellent way for small businesses to increase their customer base.
The Importance of Google Ads for Small Businesses
By having local search ads appear in relevant results, small business owners can gain much needed visibility and reach potential customers who are actively looking for their products or services. This includes brick-and-mortar stores: According to Google, 50% of customers who searched locally on their smartphone visited a nearby business within the next day.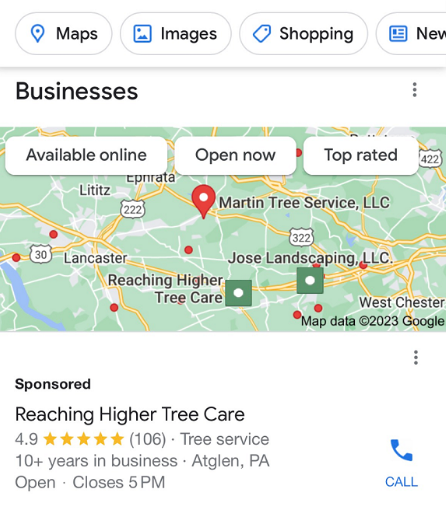 Boost Local Search Results through Google Maps Ads
In today's search landscape, Google Maps provides an effective way for small businesses to get their products or services seen by local customers. By enhancing its Google Business profile, a small business can create a detailed map listing that includes relevant information about its company – including hours of operation, photos, and reviews. Businesses also have the ability to customize their map listings by adding promotional offers or discounts to draw in potential customers. There are many proven strategies for optimizing one's business profile to rank higher in organic search results. These techniques fall under SEO and reputation management, both offered by Sharp Innovations.
But with so many competing businesses in the area, is there a faster and easier way to stand out in map results? The answer is yes! Google Ads offers several ways to improve your map ranking through paid advertising.
Before you start your ad campaign, you'll want to ensure that your business is showing up on Google Maps. It's free to set up a Google Business profile listing and verify your location, so make sure you take advantage of this opportunity. Once you do this, you'll start to appear in Google Maps results and searchers will be able to get directions to your store or office.
The next step is to link your Google Ads account to your Google Business profile. This way, you'll be able to take advantage of advertising options through Google Ads.

Smart Campaigns
One advertising option is a smart campaign. You can set that up either directly through your Google Business profile or through the Google Ads interface. With a Smart campaign, your ad will appear to potential customers in your geographic area searching for phrases related to your business.
Along with specifying a custom-written ad describing your business, you'll also get to choose keyword themes and set location targets — all within your fixed daily budget. Your ad will automatically show to potential customers on Google Search, Google Maps, YouTube, Gmail, and Google partner websites.
Search Campaigns
Another way to get a higher spot in Google Maps is through a standard Google Ads search campaign. Google search offers several features you can utilize to draw attention to your physical location: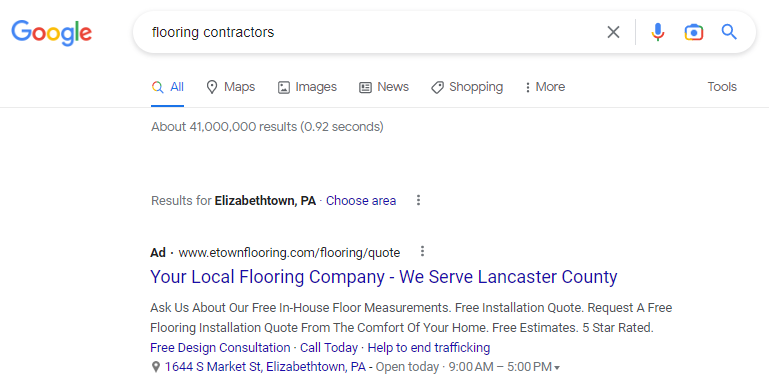 Location Extensions
In standard search campaigns, location extensions allow you to link your Google Business profile to your Google Ads account. These assets highlight your physical location in search results through a linked address (your store location) shown below your regular ad text. Clicking on that location takes the searcher directly to your Google Maps listing. There, they can view details about your business and perform local actions like getting directions, visiting your website, and even calling your business directly from the listing.
As a (big) bonus, your location extension will help to elevate your Google Maps result – therefore driving more clicks and conversions.
Targeting by Location
As with Smart campaigns, you can geotarget your search ads to run only in certain cities, counties, and more. You also have the ability to exclude specific areas within your designated locations.
Typically, location targeting allows you to show your ads only in the areas you set, assigning the same priority to all specified locations. But what if you're a painter in downtown Lancaster and you'd rather attract prospective customers from Lancaster city than from surrounding areas? Fortunately, Google allows you to make custom bid increases and decreases to the locations of your choice.
Keyword Targeting
Keywords are the heart of any search campaign, and location keywords are the foundation of any local search ad. Therefore, it's important to utilize the right keywords in your campaign. If you're a hair salon owner in Lititz, for example, you'll want to make sure you appear for searches like "lititz hair salon" and "hairdresser in Lititz." When you have your Google Business profile linked to your Google Ads campaign, your business will automatically become more visible in corresponding search results. But you can give your ads a further boost by bidding on location-based keyword phrases.
You can also use Google Ads' dynamic keyword insertion feature to dynamically insert keywords in your ad copy. This way, if you're an electrician advertising to residents in York county, a potential customer living in Dillsburg will see the headline "Dillsburg Electrician" while a searcher in Dover will see "Dover Electrician."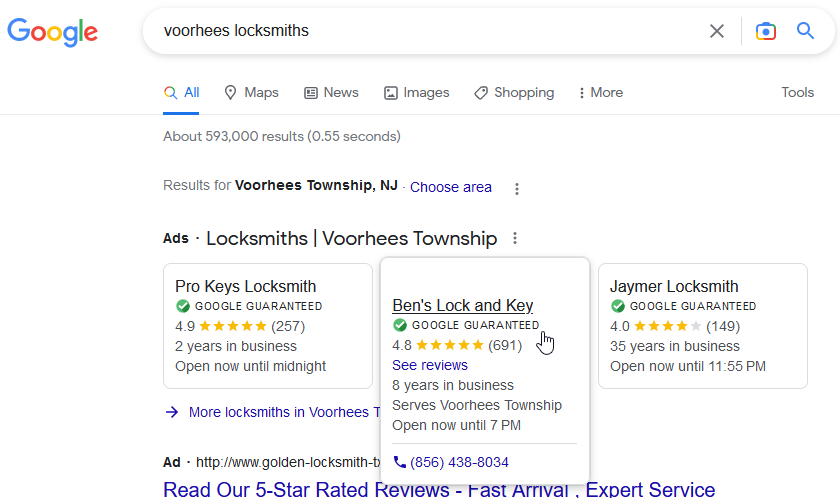 Rule Search Engine Result Pages with Local Services Ads (LSA)
Still another way for small businesses to target potential customers is through Google's Local Services Ads (LSA). Designed for service-oriented businesses, these coveted ads are shown horizontally, at the very top of search results. LSAs show the business name, number of years in business, hours, and ratings. The ads also expand to show a clickable phone number.
LSAs go a step further than the other ad types mentioned, as they require participating businesses to be "Google Guaranteed." This is essentially an online badge that signifies that the business owner has passed a background check, provided proof of insurance, and agrees to a money-back guarantee if the customer is not satisfied with the service provided. These stringent requirements lend to the credibility of the businesses listed.
Another difference is that with LSAs, advertisers pay for leads – not clicks. Furthermore, if an advertiser deems a lead to be fraudulent or a poor match, they can dispute the charge for credit. Finally, LSAs do not require ad copy or keyword lists; they are automatically created using information from the advertising company's Google Business profile. All of these advantages make LSAs an appealing choice for many small businesses.
Conclusion
Google Ads are a highly effective way to target local audiences who are already interested in certain products or services. With these ads, small businesses have an edge over larger competitors who may not be as visible in specific areas. However, not every type of ad fits every situation. Plus, there are numerous best practices to follow and custom adjustments to make along the way.
Rather than utilize your time and budget and go through a tedious trial-and-error process before seeing results, count on Sharp Innovation to manage your local paid search advertising. We have many years of experience helping small businesses boost their visibility in search results. With our knowledge, outstanding service, and affordable fees, we can help your business stand out from the crowd and get noticed in the local market. Contact us today and see the results for yourself.